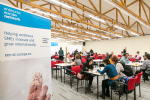 After last successfull editions of b2b Matchmaking business meetings TOURISM PRAGUE, we are preparing third edition MBM Tourism Prague 2022 in term 17.3.2022 (on-line) - 18.3.2022 (on-side). Organiser of this on-line event is again our partner Enterprise Europe Network (EEN) at the Center for Regional Development of the Czech Republic.
Use b2b meetings to get new international business contacts. One meeting takes twenty minutes and you can hold up to fifteen meetings.
Participation in these business meetings is free of charge.
Targeted 1:1 meetings promise new international business contacts
The match-making event brings together companies from a large number of European countries. This is a unique opportunity to generate new business contacts and contracts. The model is time - and cost efficient and result in business! Meetings will take place in a dedicated area and will be arranged in advance by means of this website.
Sectors represented
Travel agencies and tour operators
Accommodation & catering
Spas, relaxing and wellness resorts, medical tourism
Transport and sustainable mobility
Digital solutions for tourism
Supportive services for tourism
New trends, project partnering
Cultural heritage, renovations and restorations
Stakeholders active in tourism & cultural heritage sectors
Why to participate?
Find cooperation/ business/ project partners
Extend your network of partners
Exchange experience with other tourism players, find new ideas for your business
Make up to 15 meeting in one day
Registration and participation is free of charge
Your application form is HERE.
More information about MBM TOURIUSM PRAGUE 2022.
---